A highly popular fruit that is consumed by people across the world, tomatoes are climate sensitive during cultivation as compared to other vine crops like cucumber, squash etc.
Significantly, higher or lower temperatures can have negative effects on the tomato fruit set and quality. As a result, growers find controlled growing environments and greenhouses can improve the crop quality, flavour and yields of tomatoes.
Apart from controlling temperatures, the benefits of growing tomatoes in controlled environments include extending the growing season, achieving higher yields and high-quality fruit as well as protecting plants from adverse weather and pathogens such as early or late blight.
NatureSweet Focuses on Raising Tomatoes Right—From the Start
NatureSweet is a leading grower of premium, branded, best-tasting fresh tomatoes in North America.
Tomato has five growth stages – germination, vegetative period, flowering, early fruiting and mature fruiting. The precise days within each stage depends on the varieties and factors such as light conditions. Tomato also requires high amounts of light (intensity) to grow and develop at all stages and the right light spectrum is vital for plants growth and survival.
It is essential to note that the right spectrum is contingent to light intensity and light duration. They all work together to trigger plant flowering, growth and reproduction.
Looking to improve the success and move over to a vertical solution (vertically stacked layers), of grafting and healing and ultimately the transplant of seedlings in their greenhouses across NorthAmerica, NatureSweet approached Heliospectra and our helioCARE™ technical services team to conduct commercial crop trials with tomato seedlings in an indoor vertical farm set-up at one of their San Isidro Mexico facility.
Grafting is a horticultural technique used to join parts from two or more plants to grow as a single plant. In grafting, one plant's upper portion (scion) grows on another plant's root system (rootstock). Grafting steps include growing, grafting, healing and acclimation. The most critical stage is healing and its defined as joining the cambium between rootstock and scion to form vascular tissue.
Healing is often done under modified greenhouse conditions or inside healing chambers. In the case of grafting, the right spectrum is important for a good stem height, a good development of the rootstock and scion, a uniform look for all the plants and a matching diameter for both the root stock and scion.
Evaluating LED Light Spectra and Light Intensity for Grafted Tomato Seedlings
The purpose of the trial was to monitor and evaluate the successful healing and development of both the scion and rootstock underLED light with the intention to transport and transplant the seedlings for full production cycles in greenhouse facilities.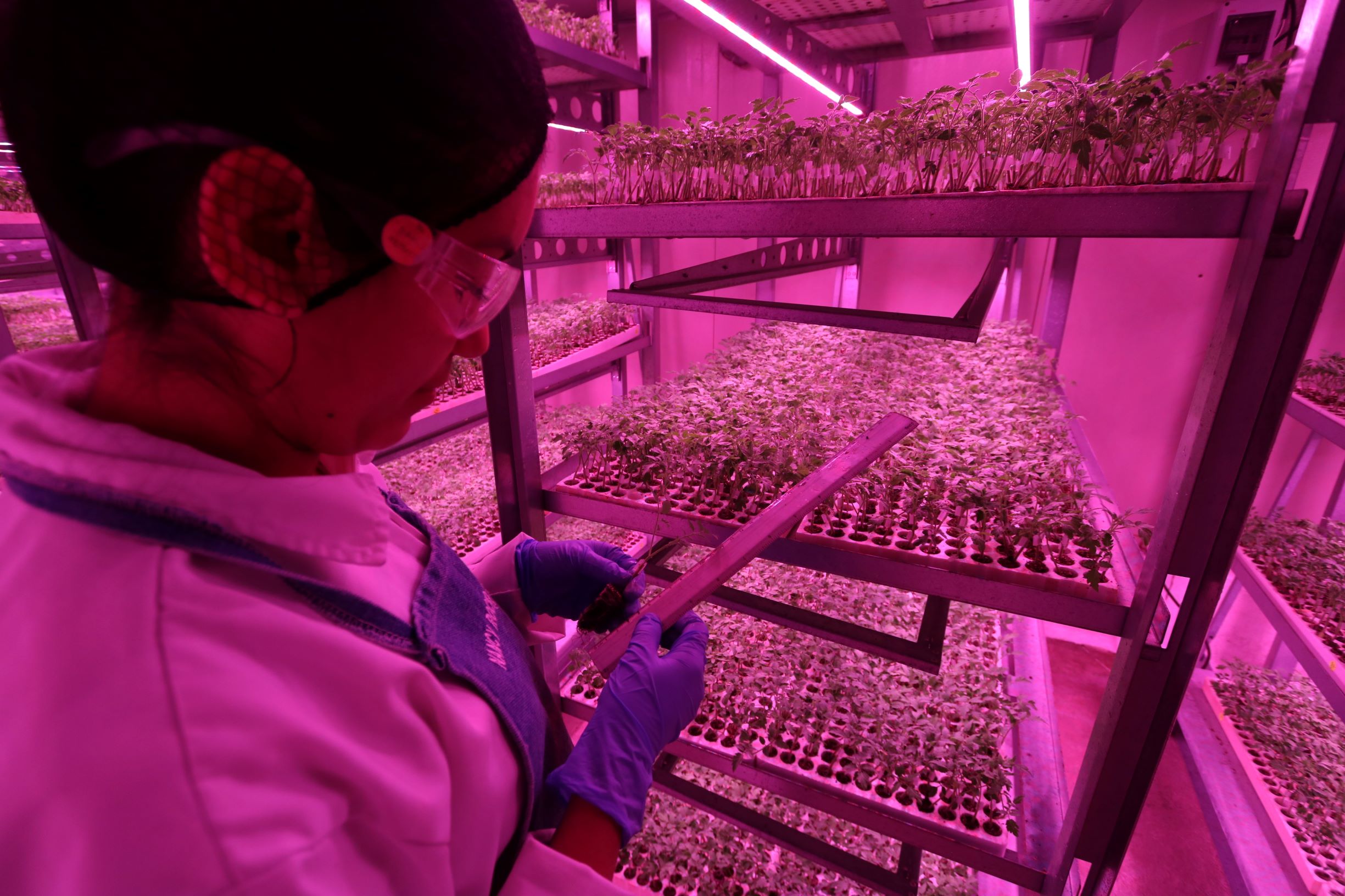 Healing test area at NatureSweet's San Isidro facility.
Heliospectra plant scientists had already investigated the growth and development for tomato seedlings different lighting treatments for the first few weeks of growth. Our next objective was to test the appropriate light spectrum and light intensity for the grafting and healing stage.Three varieties of NatureSweet tomatoes – NatureSweet Glorys©, NatureSweet Cherubs©, and NatureSweet© Grape were used for the grafting trial. The three varieties of tomato seedlings were organised in two healing test areas with one Heliospectra's controllable ELIXIA light with tuneable spectrum over each bench.
The trial groups had 1,200 grafted seedlings each and were organized in a vertical tier with room temperature held at 28 degrees Celsius and humidity maintained between 95% and 98%. Each test area had a customized light spectrum. One spectrum represented a heavy red treatment and the other represented a high blue treatment.The seedlings were kept in the healing area for 6 days after grafting. The light spectra were tested at two different intensities with one group at 50 micromoles (low) and the second group at 90 micromoles (high) for the duration of the first six-day treatment trial comparing the high blue and heavy red spectra treatments.
‍Results & Conclusions‍
Heliospectra monitored both the light spectra and intensities, seedling height, hypocotyl length and root and shoot weight.
Heliospectra identified a success rate for both light spectra and intensities to ensure successful transportation and transplant for greenhouse production environments. This was NatureSweet's goal and the outcome can be seen in Table 1 below. With the exception Grape Tomato lacking a good colour a tan intensity of 90 in Blue, the outcome for all the treatments were healthy crops, magnificent colours and root development. All Red light treatments resulted in healthy seedlings and shoots, good colour and good root development overall.

Table 1: Success rate of the grafted tomatoes seedlings for the spectrum quality test
While there were concerns with the leaf colour of Grape Tomato seedlings under the Blue spectra treatments, general evaluations conclude that sole-source LED light solutions with customized light spectra and intensities can be used to enhance the healing process in an indoor or vertical farming facility to promote superior crop health and healing in grafted tomato seedings.
The outcome of this test has led to the creation of a spectral variant in our SIERA light bar series for grafting in commercial vertical farming facilities called the Grafting/HealingTreatment Spectrum.Heliospectra's LED grow lights are designed to deliver optimal lighting performance and achieve highest-quality crops across the plant growth cycle. Heliospectra MITRA LED grow lights which features a modular design and available in three different spectral variants, although different from the spectral variants of SIERA can also be used in indoor installations. In high light regions such as Texas, California, Arizona, and Mexico, the minimal heat output from LEDs create a distinct advantage for temperature controls and HVAC demand to create substantial energy cost savings.
Looking for a customized light plan or lighting strategy to optimize your crop performance and yields? Contact us!
‍
Related content
Get in touch with us!
From custom light planning, to tailored quotes, and everything in between,
our team of horticulture experts are always ready to assist.