The Challenge of Crop Disease Detection
Crop disease poses a severe problem for any farmer, and routine inspection of plants requires labor-intensive efforts. Diseases may lead to lower production and in worst case high losses for the grower. Therefore, it would be valuable to detect diseases early and automatically. We have investigated a method using artificial intelligence and chlorophyll fluorescence on strawberry. The aim was to detect powdery mildew at an early stage.


Using Chlorophyll Fluorescence and AI for Disease Detection
Plants use the process of photosynthesis to convert the energy in light into chemical energy in the form of glucose. As photosynthesis is a vital process in producing energy for the plant, it is also an indication of how much the plant grows. Plants lose a small proportion of the used light energy as heat or reemit it, a process known as chlorophyll fluorescence.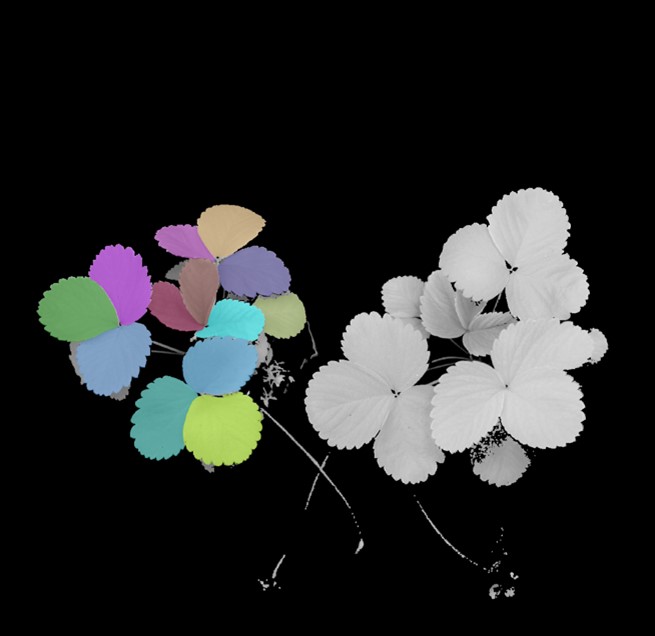 Identification of leaves on a strawberry plant
The fluorescence that leaves the plant can be measured, which has proven to deviate when a plant experiences the abiotic stressor of drought and high salinity. When testing for detection of the biotic stress powdery mildew, Podosphaera aphanis, each leaf was analyzed one by one since the disease spread pointwise. The hypothesis suggested that leaves with visible infection would show a deviant fluorescence measurement.
Artificial intelligence was used to automatically identify and separate the leaves of a plant in the fluorescence images. Each leaf was then analyzed for deviant fluorescence signals with the goal of using artificial intelligence to classify plants as either healthy or sick.


Challenges and Future Opportunities
Although detecting abiotic stress was possible, the chosen method could not prove successful for the early detection of powdery mildew. The probable cause is that powdery mildew doesn't affect the plants photosynthesis significantly until after many weeks of infection. However, the study suggests that the same use of artificial intelligence might detect other biotic stressors, providing an opportunity for growers to improve their agricultural performance.
August Löfgren
June 12, 2023
This presentation by August Löfgren, student at Chalmers University, is a student project and master thesis. It is an integral part of our Vinnova funded project "Start your AI journey". Vinnova, Sweden's innovation agency, works to promote sustainable growth and benefit society. One way to achieve this is through improved conditions for innovation and funded needs-based research. The project involves 12 years of research and implies that Heliospectra, together with researchers at Chalmers University, will further develop and productize methods to derive information about the status of plants based on measurements of chlorophyll fluorescence at the foliage level. The information is then used by growers to control production, optimize the climate in the cultivation environment, and detect problems at an early stage. The methods are adapted to be used in commercial greenhouse and indoor crops.