Indoor and greenhouse growers who are contemplating the proper lighting equipment for their facilities inevitably arrive at the dilemma of HID versus LED. HID lights, which include high-pressure sodium (HPS) and metal halide (MH), are high-intensity discharge lights. The use of LED lamps for indoor and greenhouse commercial growth is surrounded by many myths. Five of the most common (but easily busted) LED myths to involve key performance indicators that help growers determine their final grow light choices, including:
Cost/ROI
LED lifespan
Power consumption
Heat/running temperature
Crop yield
The US Department of Energy acknowledges that "LED is a highly energy-efficient lighting technology and has the potential to fundamentally change the future of lighting …." However, not all LED lighting technologies are created equally. There are underpowered and inferior low-cost LED lamps on the market. Their poor performance negatively (and unfairly) affects the overall perception of genuinely reliable high-powered and high-performing units from market leaders. This is one reason why growers may be skeptical about LED technology. The following myths are also creating market confusion, so we are here to help set the record straight.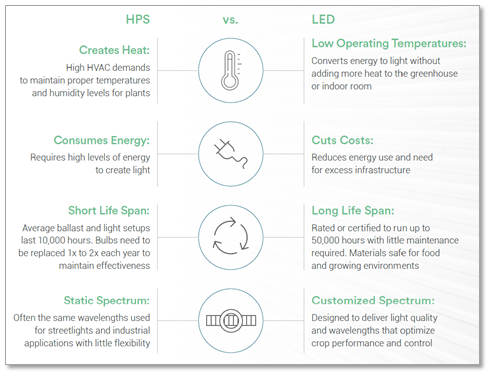 High-pressure sodium (HPS) lighting was revolutionary in its day. It succeeded in boosting yield but was hard to control. HPS fixtures are hot, inflexible, and power-intensive with a spectrum that is not necessarily optimized for plant cultivation. LED technology enables you to control growth in ways that HPS simply can't deliver. So stop paying attention to misdirection and myths. With today's MITRA lighting system and intelligent controls, your crops and business can target and achieve the desired outcomes. Check out MITRA now, or get in touch with us today!
ABOUT MITRA
MITRA's features include a modular design, an innovative cooling solution, and IP67 dust and water resistance. Designed to work both indoors and in greenhouses, MITRA is available in a host of different modules and spectral options, making it the most versatile LED grow light on the market.
Key Features: 
Up to 2.8 μmol/J Fixture Efficacy
3 Customized Spectra
Up to 40% decrease in energy consumption compared to HPS
ABOUT HELIOSPECTRA
"Heliospectra is not just selling a light, they continue to support and aid us as we learn – ensuring that our growers and the company as a whole are getting the most out of the investment."
Andrew Fuller, Technical Director, Bridge Farm Group
Heliospectra AB was founded in 2006 in Sweden by plant scientists and biologists with one vision – to make crop production more intelligent and resource-efficient. Today, with customers across six continents, Heliospectra is the global leader in innovative horticulture lighting technology, custom light control systems, and specialized services for greenhouse and controlled plant growth environments. Designed by growers for growers, Heliospectra builds customized LED lighting strategies and controls that automate production schedules, forecast yields, and monitor crop health and performance with real-time data and response, delivering the light plants love and the consistent results growers need. For more information, please visit www.heliospectra.com.
The information herein has been carefully compiled and is believed to be accurate at the time of publication. It is meant to inspire you to dig deeper into the options and opportunities available. Heliospectra assumes no responsibility for possible errors, omissions, or consequences resulting from the use of this work.